DECK CONFIGURATION
At this page we describe Maestro 40 deck configuration with standard equipment and some options too.
TEAK DECK
Maestro 40 has teak finish as standard at:
deck
mast deckfitting area
cockpit seats, uppersides and sole
swimming platform.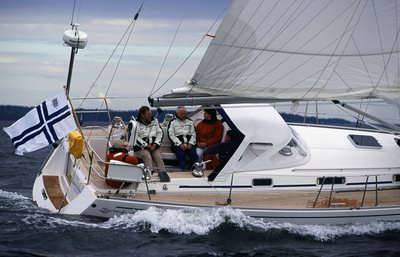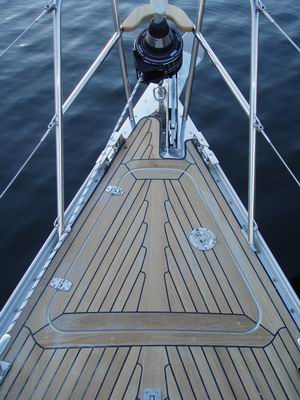 BOW
Aluminum toe rail with SS fair leads with roller chocks as end fittings .
Two mooring cleats.
SS Pulpit with teak-step.
Large anchor locker.
Bow fitting with integrated anchor holder with rollers for Delta-anchor.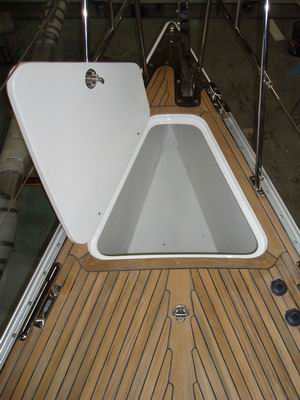 Anchor locker is extra large.
Windlass, mooring lines, six fenders and bow ladders can be stored in anchor locker.
Locker is self draining.
At centerline is standard padeye for spinnaker downhaul. See also Cutterstay arrangement for optional deck fitting.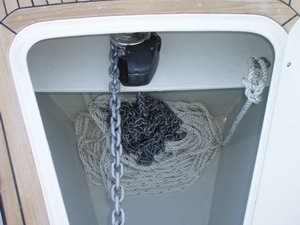 WINDLASS (option)
Electric windlass is installed to shelve at anchor locker.
Here equipped with 10 meter galvanized chain and 50 meter line.
Line is attached to padeye.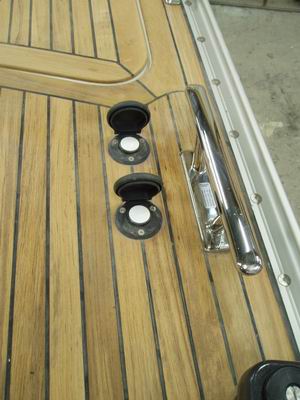 Windlass has UP and DOWN foot switches in starboard side at deck.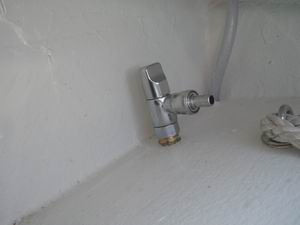 ANCHOR WASH (option)
To anchor locker is possible to have seawater outlet and hose for deck or anchor washing.
Valve is simple and reliable with quick connector.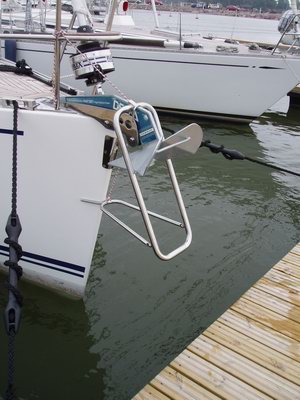 BOW LADDERS (option)
Bow ladders are special made from Stanless Steel (AISI316).
Ladders are attached to Delta anchor and anchor is also used as upper step.
Easy installation and secure use are key factors to use boat specific bow ladders.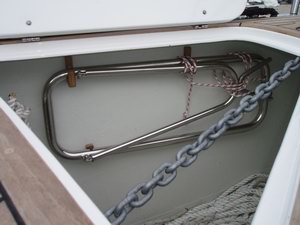 Bow ladders are stored in anchor locker.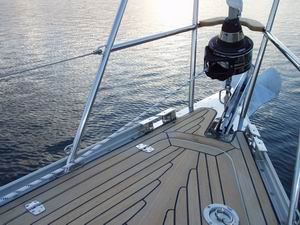 FURLER (option)
Pulpit is designed for Furlex 300S rollreefing system.
For furling line routing at pulpit is ready made ring.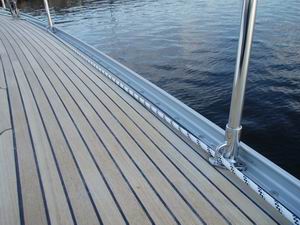 At each stanchion deck fitting is also ready made holder for furling line.
SIDE DECKS
Deck has teak finish. Teak is vacuum assisted epoxy glued to GRP deck.
No screws are used = no holes at deck and light weight.
Aluminum toe rail and double guardrails with stainless steel stanchions.
Between pushpit and A-stanchion guardrails with snap-schakle.
Middle of boat SS fair leads with roller chocks and mooring cleats.
Jib sheet foot blocks.
STARBOARD SIDE
MID SECTION
In picture from top down:
Fuel filler.
Spinnaker guy block.
Stanchion deck fitting.
Stainless steel fairlead with roller chocks.
Mooring cleat (not in picture).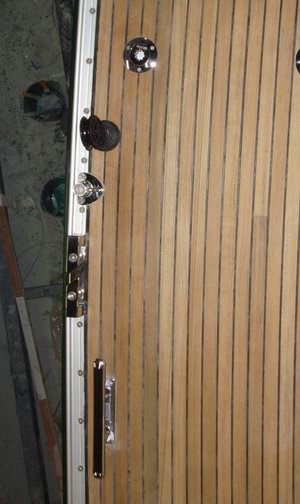 PORT SIDE
MID SECTION
In picture from top down:
Water filler.
Spinnaker guy block.
Stanchion deck fitting.
Stainless steel fairlead with roller chocks.
Mooring cleat.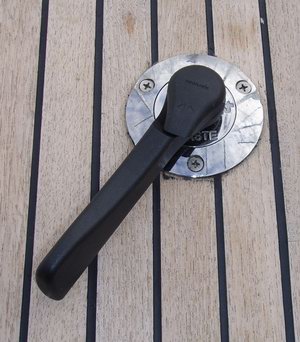 Filler is easy and practical open with engine control handle or winch handle.
Secure and watertight.
Each filler cap is marked; FUEL, WATER or WASTE.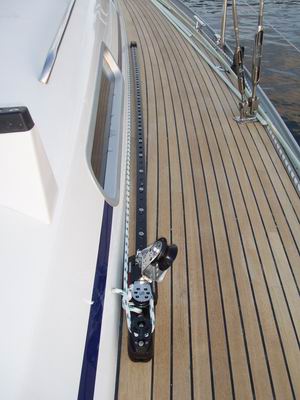 JIB TRACK
Harken genoa sheet system with roller bearings and control lines with clutches to cockpit.
Chainplates.
CABIN ROOF
Two pairs of fixed cabin windows with aluminium frames. Opening windows at galley and chart table. Deck hatches: 50 x 50 forward cabin with skyscreen, 50 x 50 cm cabin top.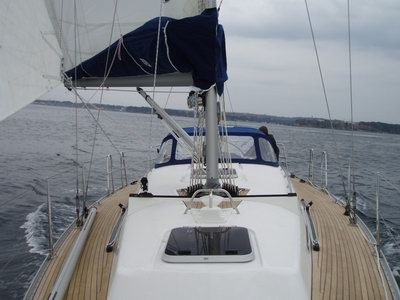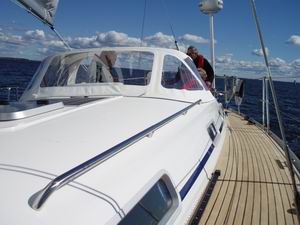 SMOOTH AND SAFE
Cabin roof is free from lines and curved for perfectly for safe moving when boat is heeled.
Stainless steel handrails from cockpit to forward hatch on both sides.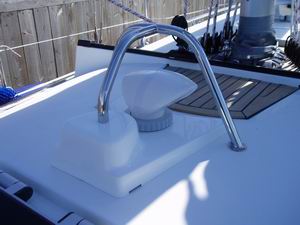 One "Dorade" style ventilator with stainless steel protection guard.
In picture seen lower model if ST-jib track is installed.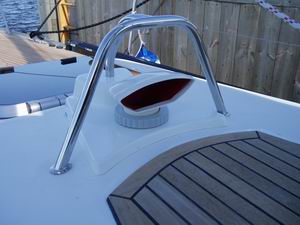 Ventilator is used for uninterrupted air circulation.
Ventilator is possible open and close from forward cabin.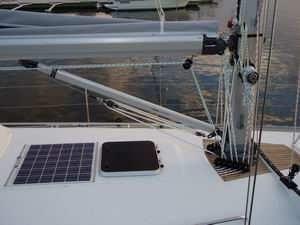 Deck hatch 50x50 cm at cabin top.
Solar panel (option) mounted to cabin top.
Harken blocks beside mast deck ring and SS fitting for below deck line system.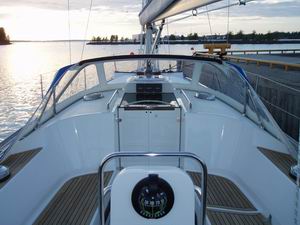 Two solar vents on the cabin top.
Stainless steel handrails at both sides of companion way.
Companion way with "saloon" style door and Plexiglas "smoke" slider.
Instrument panel above companion way. To panel fits 5 Raymarine ST60 displays.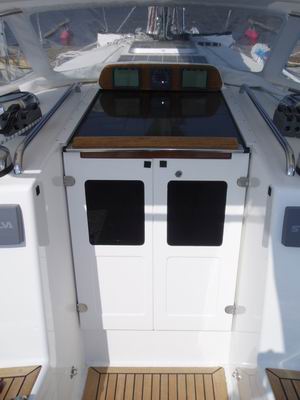 COMPANION WAY DOOR WINDOWS (option)
Windows are made from plexiglas "smoke".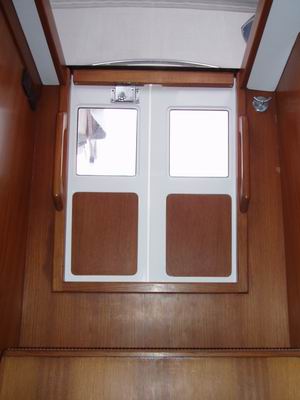 Inside view to companion way with windows and extra wood surface o doors.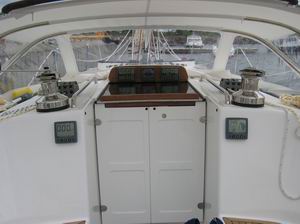 CABIN ROOF EXTRA HARDWARE (option)
To cabin roof is possible to install extra winches, clutches and organizers.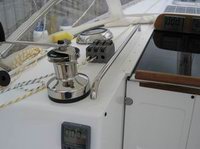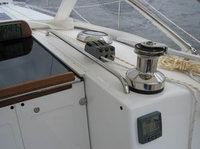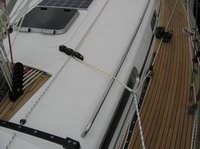 ---

Note that in pictures might be visible special and optional equipment. Please do not hesitate to contact Maestro seller if you have any questions.