Two aft cabin version
Stylish interior with combination
of Corian, wood and GRP.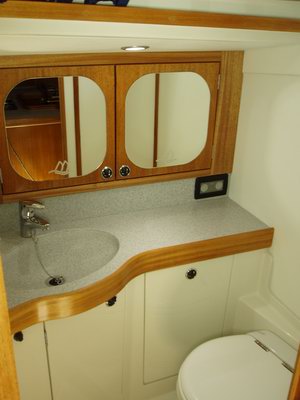 Shelves inside locker.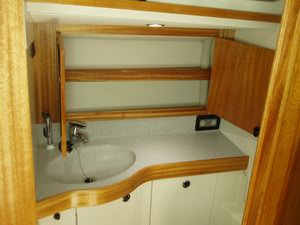 Tecma silent water closet is
operated by soft touch push buttons.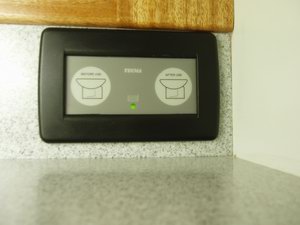 See video how Tecma silent water closet works, click here:
Water closet uses DAME Design Awards Mets 2001 award winning centrifugal grinding pump. Learn more click here.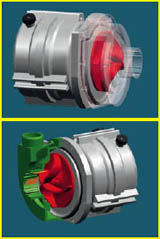 Septic tank has a level sensor. When tank is near full green LED-light at control panel changes color to red. Learn more how level sensor works, click here.

Click image to enlarge it.
Head layout
Two aft cabin "standard" head version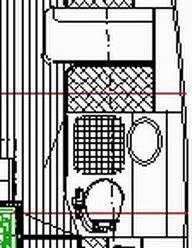 One aft cabin version with "standard" head.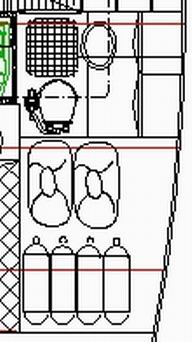 Standard
specification:
Electric marine type water closet. Maestro uses Tecma Silence Standard Marine toilet. For more info see Tecma's website.
Stainless steel (AISI316) septic tank with level sensor, capacity about 95 ltr.
Corian table with integrated wash basin with a shower, pressurized water system.
Big wall mirror and locker doors with mirrors.
Shower sump with electrical pump.
Two inserted halogen lights.
One aft cabin version
Extra large head at Starboard side.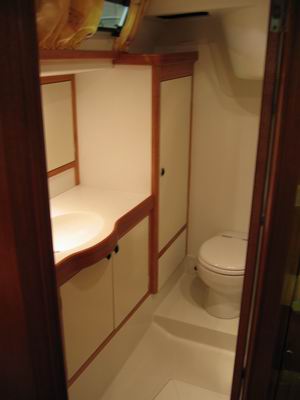 Lots of space at lockers.
Big closet for rain clothes.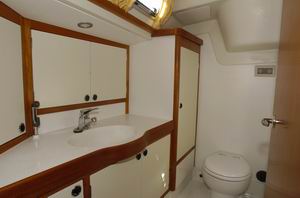 Head has continuous ventilation via sunvent.